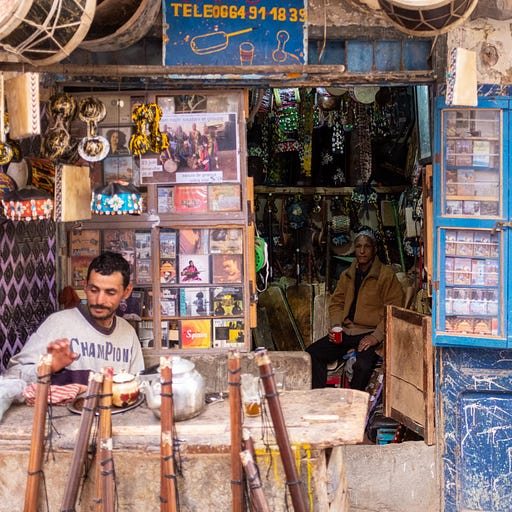 Mar 15 • 1HR 1M
Oost, west en al de rest
Inbox Jukebox #6 - Oriental Mood
Inbox Jukebox is de audiobijlage bij Stereotype. Jeroen Revalk laat je meeluisteren naar de muziek op zijn draaitafel: jazz en aanverwante geluiden, soms alleen een muziekmix, soms een programma met wat tekst en uitleg.
Van mijn draaitafel naar jouw mailbox, hier is de nieuwe editie van Inbox Jukebox. Met deze keer een selectie geïnspireerd door kruisbestuivingen van Oosterse en Westerse muziek, plus enkele andere grensoverschrijdende uitstapjes:
Sam Shalabi - Hawaga (Sam Shalabi)

Eid (Alien8 Recordings, 2008)

Jiraan - Sultaniyegah Sirto (Traditional/Shalan Alhamwy)

Jiraan (Zephyrus, 2023)

Sheikhs Shikhats & B'net Chaabi - Still to come (Laïla Amezian, Laurent Blondiau, Olivier Thomas)

Sheikhs Shikhats & B'net Chaabi (Zephyrus, 2023)

Marakbar - Moudani (Traditional)

Antwerpen 93 (Koch, 1993)

DJ Big Band - Continents

DJ Grazzhoppa's DJ Big Band + Aka Moon (Cypres, 2010)

Aka Moon - You know that nobody knows (Fabrizio Cassol)

Quality of joy (Outhere Music, 2023)

g a b b r o - Tomorrow's parties (Hanne De Backer, Andreas Bal, Raf Vertessen)

The moon appears when the water is still (Bandcamp, 2023)

Maurice Louca - The palm of a ghost (Maurice Louca)

Elephantine (Sub Rosa, 2019)

Koch Schütz Studer & El Nil Troop - Qissa (Hans Koch, Martin Schütz, Shaker Ismail)

Heavy Cairo Traffic (Intuition, 1997)

The Cairo Jazz Band - Oriental Mood (Salah Ragab)

Sun Ra Arkestra meets Salah Ragab in Egypt (Leo Records, 1999)
---
Luister je liever naar een Spotify-playlist? Dat kan ook: hier vind je meer Oriental Moods: dat is een beetje andere selectie, want niet alles uit deze Inbox Jukebox is te vinden op Spotify. Maar als uitsmijter heb ik wel nog een nummer toegevoegd uit de recente EP De dabke sessies van Yagoon, een band uit Oostende rond trompettist Yamen Martini.
Thanks for reading Stereotype! Subscribe for free to receive new posts and support my work.